2016 · 07 · 06
Danish band Phønix tours with guzheng player SangKa in South China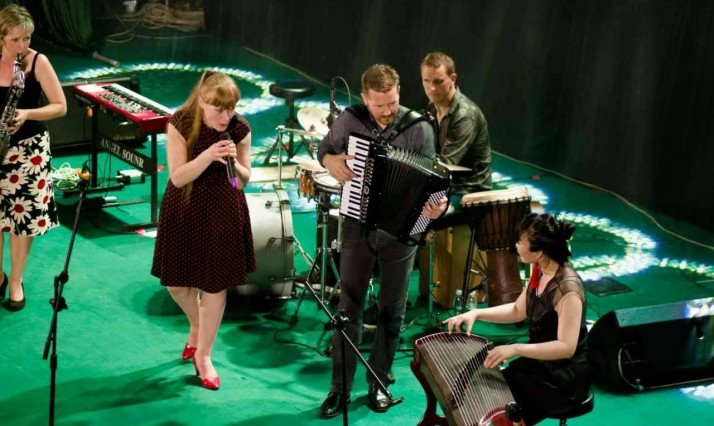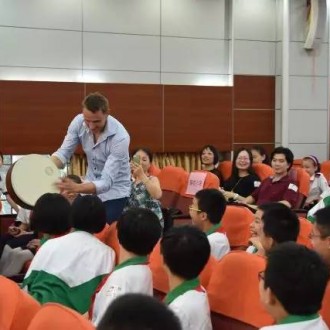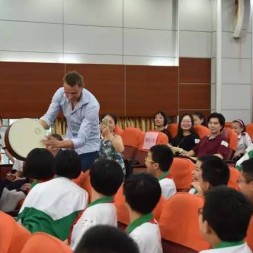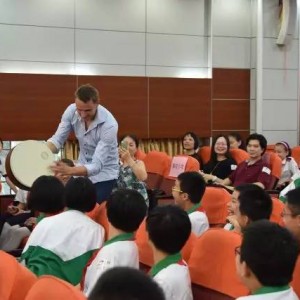 The Danish folk band Phønix have just returned home after a small, but very successful, tour to the Guangdong province in southern China, where they played concerts in the two cities Guangzhou and Shantou.
Phønix' China tour was arranged in cooperation with the Chinese Guzheng player Sangka whom Phønix has performed with several times ever since the artists met and performed together at the opening of the Danish Cultural Center in the 798 Arts District in 2014. The opening was a part of the Danish Cultural Season in China 2014/15, where the band performed in Shanghai and Shenzhen.
The Music Project Phønix/Sangka is a unique musical cultural meeting between Chinese and Danish folk music, and together Phønix and Sangka have already played about 25 concerts in Denmark, eg. the Spot Festival, at the official Culture meeting at Mors and school concerts for Live Music in Schools (LMS).
It was time to present the project in China and it was very well received by both the audience and organizers. During the tour new plans for another tour (hopefully in 2017) were already made.
School Concerts
After playing school concerts together in Denmark, it was obvious that they should try the same thing in China. As Chinese schools do not have a tradition of throwing school concerts, it was also the first time Sangka played at a Chinese school. As this was a new experiment for the schools, a lot of extra work accumulated – especially for the concert manager. But both children, teachers and parents were positively surprised by the outcome. The fusion of Chinese and Danish music combined with Phønix' energetic and insistent concert style was a big hit.
The Chinese guzheng has a dreamy harp-like pentatonic sound that beautifully accentuate Phønix' lively, grooving sound. It is a cultural meeting between two very different musical traditions, which together create a very special and unique new sound.
The culture of Danish school concerts is one of the most advanced in the world and there is certainly a huge potential for development in China. Phønix intends to contribute to this development by continuing to perform concerts and inspire the Chinese school children in the coming years.
But first Sangka will return to Denmark with Phønix to tour and record an album together.
About Phønix / Sangka
Sangka is a young rising star guzheng player, residing in Beijing and educated at the China Conservatory of Music. Sangka is, despite her young age, already a renowned musician in China, where she even contributed to the opening music at the Beijing Olympics 2008. In Europe Sangka also played on Womex09 and on tours in Germany and Belgium.
Phønix is ​​one of Denmark's leading folk bands. Their unique sound has roots in the Danish and Scandinavian song and music tradition, but they bring it to new experimental levels with a more contemporary and unique sound, which makes their music point a mixture between past and future. Phønix's intense and energetic stage performance has led them different parts of the world, the greatest folk festivals, as well as the most intimate club stages.
Phønix has released eight albums and has received four Danish Music Awards.
Read more about Phønix.
Photos: Phønix.