2017 · 11 · 21
A groovy fusion of Danish and Chinese music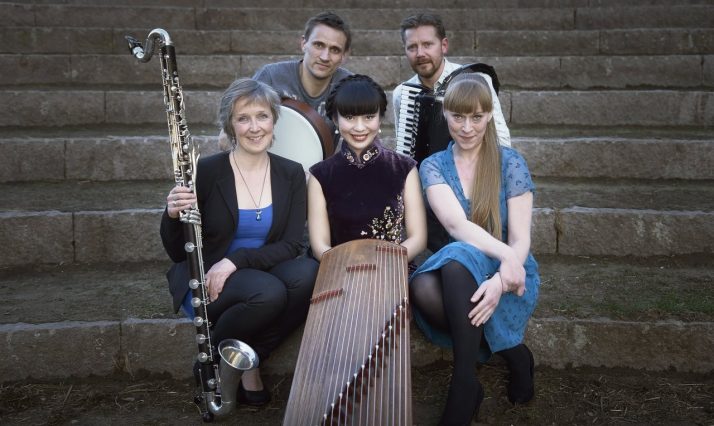 The musical collaboration between the Danish folk music band Phønix and the Chinese guzheng player SangKa has now resulted in the album Groovy Guzheng – Phønix featuring SangKa.  
Phønix and SangKa first met and played together on 26 October 2014 at the opening ceremony of the Danish Cultural Center in 798 Art District, Beijing. Without knowing each other or having time to practice, they had to play a concert in front of the many prominent guests. After that, Phønix and SangKa began to compose, arrange, and create new music together.
The album Groovy Guzheng was released in September 2017 and contains of a mix of traditional Danish and Chinese tunes in new versions and arrangements, as well as a few original tunes composed by the band members. The last track on the album is a live recording from Spot Festival 2015 which was part of Phønix and SangKa's tour in Denmark. The group also toured together in the Guangdong province, China in 2016.
About Phønix/SangKa
Phønix is one of the leading and most experienced folk bands in Denmark. The band has existed in its current form for about 12 years and consists of Karen Mose (vocal/keys), Jesper Vinther (accordion), Anja Præst (bassclarinet/clarinet), and Jesper Falch (percussion). Phønix has won several Danish Music Awards and performed all over the world.
SangKa was born and raised in Beijing. She started playing the guzheng (also known as the Chinese zither) at the age of five and graduated from China Conservatory of Music. Despite her young age, SangKa is already a reputable musician in China where she even played at the 2008 Summer Olympics opening ceremony.
You can watch a 20-minute-long documentary on the collaboration between Phønix and SangKa here or read more about Phønix here.
If you have any questions, you are welcome to contact us.
Danish Cultural Center
8610 – 5762 6100