2019 · 06 · 18
Bjørn Nørgaard: Lost in Perception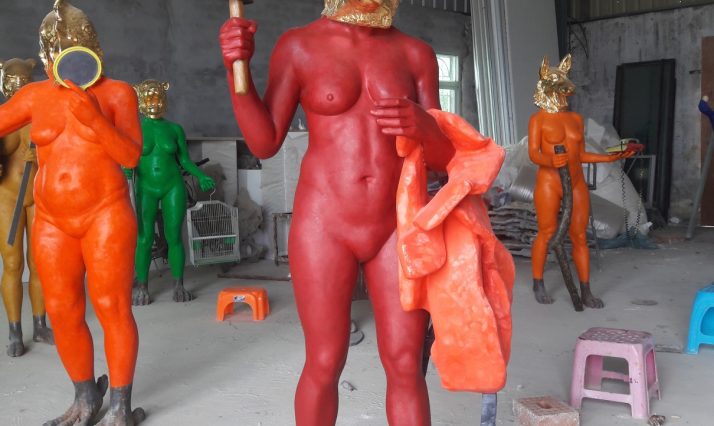 Bjørn Nørgaard: Lost in Perception
The exhibition Lost in Perception by Bjørn Nørgaard opened in Danish Cultural Center, Beijing, 8th of June 2019, 15.00
Since coming to Beijing 16 years ago, Bjørn Nørgaard has visited the Dongyue Temple on Chaowai several times. From day one, this Dao temple with its grotesque tableaux of spirits, demons, judges and various deceased persons awaiting their final verdict, reminded him of European medieval figurines of saints, angels, Virgin Mary and Christ, not seldom arranged in a similar vein. Still, how similar they seemed to appear in terms of formal representation and vocabulary, he soon realized that the images conveyed entirely different meanings.
The many years in China have given him an insight into how much East and West share the same desires and hopes, yet also how radically different the traditions that shape us remain.
Lost in Perception
The centerpiece of this exhibition consists of twelve zodiac figures. Together and individually, they constitute an artistic, hybrid interpretation of the Dongyue characters into the modern realm. The resulting apparent chaos of imaginary and meanings is however not a collage of visual appearances locked into materiality. Nor does the autonomy of the individual elements succumb to the overall idea. Instead, the sculptures should be seen as an attempt to articulate a new alphabet of forms and shapes, consisting of both new and old, from which each of us can write our own sculptural sentences.
On 9 June, DCC hosted the symposium 'How To Misunderstand Each Other In A Friendly Way' on the challenges of working with imagery that is unfamiliar to you.
About Bjørn Nørgaard
Nørgaard is a pre-eminent figure among the artists active in Denmark today and one of the most important Danish artists to have emerged out of the 1960s art scene. He's also the most decorated and publicised Danish artist ever.
He insists on material practices and physical experiences in a world where knowledge and information is usually insubstantial and immaterial. He has a relentless interest in the relationship between art and the world – something that is evident from his earliest years as an artist, a time when he continually challenged and reinterpreted art, the art institution, and the role of the artist, up to the more recent years with their commissions and creations of monumental works that have interpreted and changed the public space in Denmark and abroad.
An example of the former include The Female Christ at the Danish Stock Exchange (1969) and The Horse Sacrifice (1970). The paving of Copenhagen's central square, Amagertorv, The Tapestries at Christiansborg Palace (commissioned by Danish Industry for Queen Margrethe II's 50th anniversary and the result of 30 weavers' daily work for ten years at Les Gobelins in Paris), the monumental Hans Christian Andersen statue in Odense celebrating HCA's 200th anniversary, and The Queen's Sarcophagus at Roskilde Cathedral, where Her Majesty will be laid to rest, are examples of the latter.